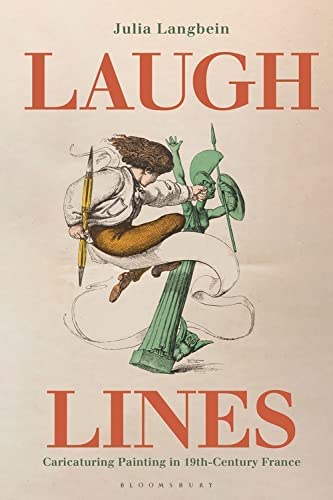 Laugh Lines
Caricaturing Painting in Nineteenth-Century France
Laugh Lines: Caricaturing Painting in Nineteenth-Century France is the first major study of Salon caricature, a kind of graphic art criticism in which press artists drew comic versions of contemporary painting and sculpture for publication in
widely consumed journals and albums. Salon caricature began with a few tentative lithographs in the 1840s and within a few decades, no Parisian exhibition could open without appearing in warped, incisive, and hilarious miniature in the pages of the illustrated press.
This broad survey of Salon caricature examines little-known graphic artists and unpublished amateurs alongside major figures like Édouard Manet, puts anonymous jokesters in dialogue with the essays of Baudelaire, and holds up the
material qualities of a 10-centime album to the most ambitious painting of the 19th century. This archival study unearths colorful caricatures that have not been reproduced until now, drawing back the curtain on a robust culture of comedy
around fine art and its reception in nineteenth-century France.
Praise & Reviews
"Laugh Lines makes a significant contribution to our understanding of cultural and artistic changes in France from the 1840s to 1880s. It offers an important corrective to the historiography on caricature and modernist painting, and illuminates shifting relations between visual art, literature, and journalism.""
―Jillian Lerner, Instructor in Media History, Emily Carr University of Art & Design, Canada
"In this enthralling study of nineteenth-century Salon caricature, distinctive but neglected artists like Bertall and Cham benefit from being compared with Daumier and Nadar in a wide-ranging historical analysis which explores the extensive variety of printmaking techniques available at the time."
―Stephen Bann, Emeritus Professor of History of Art, Bristol University, UK
"Julia Langbein's engaging and impeccably researched volume enriches our comprehension of the spatial and social dynamics of Salon spectatorship. It will become required reading for anyone interested in art headquartered in nineteenth-century Paris."
―Hollis Clayson, Bergen Evans Professor Emerita in the Humanities and Professor Emerita of Art History, Northwestern University, USA